---
RF Synthesizer 4MHz – 8GHz with output level up to +27dBm
Wideband frequency synthesizer (RF signal generator) with output frequency range from 4 MHz to 8 GHz, high frequency resolution and high output signal level. Output power is variable and AGC controlled with digital compensation system based on calibration data written in memory of the device. Synthesizer also has multi-path filtering block for additional harmonic suppression. Device is digitally controlled via SPI interface. Frequency tuning can be dynamically programmed within all specified frequency range. High output signal level allows the device to be used as a Local Oscillator (heterodyne) for passive balance mixers when more than +13 dBm required for linearity of the path. It also can be used for nonlinear distortion parameters measure of high-power output stages: one-decibel compression point – P1dB and intermodulation intercept point IP3 (with aid of two synthesizers for

"pure" two-tone signal generation).
Features
RF output frequency range: 4 MHz – 8 GHz;
Min. frequency step: <0.001 Hz;
RF output level: up to +27 dBm;
Phase Noise: less than −121 dBc/Hz (@ 10kHz offset @ 1 GHz).
Pricing and Availability
Price1, (@ qty.)

Stock qty.2

Time3

1

>1

Delivery

Production

$2 850

call

1

2 weeks.

1.5–2 mon.
It's a guiding price, for more information contact us. Also a low-cost variant (LNO-LP05M-RF) of the device is going to be available!
Only discrete parts quantity is shown (some of the devices may be already included in other systems as a part), for more information contact us.
Delivery time — if product is available in the stock, production time — otherwise.
Product components
| | | | |
| --- | --- | --- | --- |
| Item | Components | Qty. | Description |
|  1 |  LNO-HP30M-RF | 1 | Wideband frequency synthesizer 4 MHz – 8 GHz. High output power variant |
Accessories
| | | | |
| --- | --- | --- | --- |
| № поз. | Компоненты | Кол-во | Описание |
| 1 | HS-LNO | 1 | Heat Sink for LNO Synthesizer RF-Block (mounting with screws) |
| 2 |  RS2SPI-01M-PCB | 1 | Evaluation board for RF-blocks with SPI-interface (like this) control via COM-port (RS-232) of the PC. This board serves as a RS-232 to SPI bridge |
| 3 | RF Debug Application | 1 | Software application for RF-blocks control via PC COM-port. Application has open source as it is written on Tcl/Tk and is used for easy learning of SPI control commands for particular RF-block, and for further integration of the block into user's own complete system |
Notes: accessories are not included in the product above, they should be ordered separately.
With aid of LNO synthesizer, RS2SPI board and RF Debug software one can easily assemble low-cost single or double RF-signal generator for test and measurement needs.
Documentation
Additional documentation is available in the appropriate section for registered users. Download search system may be useful in this case.
Specification
Parameter
Conditions
Value
Unit
min
max

RF Output & General Characteristics

RF Output Frequency Range
 
4
8000
MHz
Min. Frequency Step
(Fref=147MHz), @ 8 GHz:
 
3.87·10-4 
 Hz
Output Power Min. Range
@Fout=4MHz to 8GHz
-18
+25
dBm
Output Power Min. Step Size
 
 
0.1
dB
Nominal Output Impedance
 
50
Ohm
Output VSWR
 
 
2.1
 
Spectral Purity & Phase Noise Characteristics
Phase Noise
Fout=1GHz, @ Offset:
 
 
 
1kHz
 
-115
dBc/Hz
10kHz
 
-121
dBc/Hz
100kHz
 
-122
dBc/Hz
1MHz
 

-130

dBc/Hz

Spurious Suppression
(except harmonics)
 
-70
dBc
Harmonic Suppression
from 250MHz to 8GHz Fout
 
-35
dBc
Internal Frequency Reference Characteristics (TCXO)
Frequency
 
147
MHz
Temperature Stability
 
±5
ppm
Aging First Year
 
±1
ppm
Operating Temp. Range
 
-10
+65
°C
Programming Interface (SPI, LVTTL 3.3V, 5V tolerant)
Vih
 
2.0
5.5
V
Vil
 
-0.5
0.8
V
Clock Frequency
 
 
1
MHz
Power Supply
+5VA Supply Voltage Current
 
 
0.5
A
+9VA Supply Voltage Current
 
 
0.9
A
-12VA Supply Voltage Current
 
 
0.05
A
Dimensions
Length
excluding SMA connectors
 
185
mm
Width
 
 
87.5
mm
Height
 
 
12.5
mm
Output Frequency
Output frequency is given by the following equation
Fout=(M/N)·Fref ,
where Fref — reference oscillator frequency (int. 147 MHz), N — integer in range from 0 to 248 (provided that Fout is in range given by the table below), M — constant integer given by the following table for each appropriate frequncy range.
| | | | |
| --- | --- | --- | --- |
| 3.90625-7.8125MHz | 7.8125-15.625MHz | 15.625-31.25MHz | 31.25-62.5MHz |
| 241 | 242 | 243 | 244 |
| | | | | | | |
| --- | --- | --- | --- | --- | --- | --- |
| 62.5-125MHz | 125-250MHz | 250-500MHz | 0.5-1GHz | 1-2GHz | 2-4GHz | 4-8GHz |
| 245 | 246 | 247 | 248 | 249 | 250 | 251 |
Phase Noise
RF Output Levels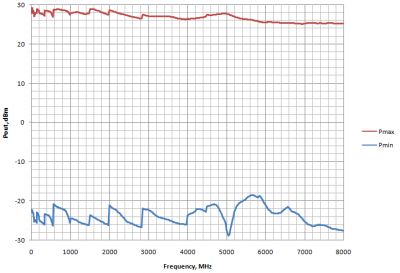 RF Output Level